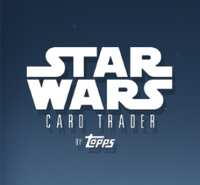 Welcome to the Star Wars: Card Trader Wiki
The Star Wars: Card Trader database.
Current Sets and Cards available on this Wiki can be found using the following links:
A cunning and most able Jedi Knight during the early years of the Clone Wars, athletic, exotic, blue-skinned
Aayla Secura
proved her worth in countless galactic engagements. She often fought alongside Clone Commander Bly, and felt obligated to pass on the emotional control and self-awareness she had learned as a Jedi to others requiring guidance. Sadly, Aayla Secura was slain, along with so many Jedi warriors, when her own programmed clone troops were compelled to turn on her.
(Read more…)
Keep up-to-date with the latest SWCT news on the official Topps STAR WARS Card Trader @ToppsSWCT twitter feed.