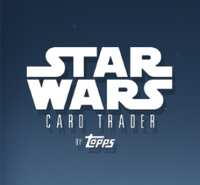 Welcome to the Star Wars: Card Trader Wiki
The Star Wars: Card Trader database.
Current Sets and Cards available on this Wiki can be found using the following links:
A wise and patient Jedi Master, the Togrutan
Shaak Ti
fought at the Battle of Geonosis, and supervised the training of clone cadets on Kamino. There, she struggled to balance the necessity of producing capable troopers with compassion for clones as living beings. Ti helped defend Kamino against Separatist attack, balancing assignments in the field with her duties on the Jedi Council.
(Read more…)
Keep up-to-date with the latest SWCT news on the official Topps STAR WARS Card Trader @ToppsSWCT twitter feed.